About us
History
2006
We launched our first breakfast stall at Waterloo East station, feeding hungry commuters from our converted filing cabinet on wheels!
2009
We landed our first supermarket listing with Waitrose and expanded our stalls to nine London train stations.
2009
Our jumbo oat porridge range launched starting with instant porridge pots.
2015
MOMA teamed up with British Military Fitness to host pop-up porridge bars at their nationwide race events. The 'pimp my oats' porridge bar featured a mouth-watering selection of 25 toppings.
2016
Our first advertising campaign went live with 750 posters across all the London Underground stations.
2017
MOMA officially becomes the fastest growing porridge brand in the UK.
2018
We launched our pop-up restaurant 'Oat Cuisine' in Soho Square, serving up an 8 course oaty tasting menu, with all proceeds donated to charity.
2019
We began our partnership with school breakfast clubs across the country to help more kids start the day with a nutritious breakfast.
2020
Our oat drink range hit the shelves in March, and our Barista Edition won a Great Taste Award!
2021
Our brilliant in-house oat scientist continued tinkering away with our oat drink recipes during the continued lockdowns of 2021.
2022
After testing 250 recipes, we doubled our oat drink range and launched MOMA Semi and Whole. We also moved the production of our oat drinks to the UK, where they're made using British oats.
2022
Our first major campaign, "The Barista's Choice", went live across TV, outdoor and digital channels.
2022
Our oat drinks won a clean sweep of Great Taste Awards and our MOMA Whole oat drink bagged The Grocer New Product Award for the dairy-free category.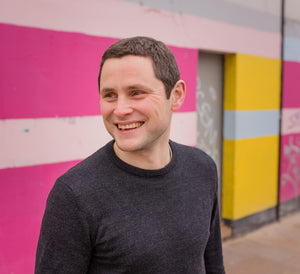 Tom's Story
The MOMA journey began when Tom became increasingly frustrated with the lack of healthy breakfast options available for people on the go. After lots of thought, it was a no-brainer that oats would be the key ingredient in his breakfast creations: grown in the UK and full of nutrients, oats keep you fuller for longer. After some successful market research, Tom took the plunge and quit his job, creating a range of oat smoothies and bircher muesli, selling from a converted filing cabinet in Waterloo station. Over 15 years later, the brand has come a long way and continues to move in new directions. Our range now extends to porridge, oat drinks, and bircher muesli to be enjoyed at home or on the move.
Sustainability
We're always working to continue improving our sustainability wherever we can at MOMA. We've removed plastic lids from our porridge pot range and are working on innovative ways of making all of our packaging fully recyclable and environmentally friendly. We're always on the lookout for ideas and suggestions on how to make MOMA more sustainable and better for the planet. If you have something to say, get in touch.
Find out more
Supporting British Farmers
At MOMA, oats are the hero ingredient in everything we make, from our porridge to our dairy-alternative oat drinks. We believe in supporting British farmers in their hard work and dedication to creating nutritious and tasty oats from the soil to the grain. We all know oats are wholesome, delicious and healthy but they have great sustainability credentials too. Whenever possible, we source our oats from local British farms to ensure the quality is high but the food miles are low.

Oats For All
To sum up MOMA's ethos in five words: No one gets left oat. We work hard to create delicious free-from products so that coeliacs, vegans, flexitarians and people with lactose intolerance can enjoy the great taste and health benefits of oats. Some MOMA products do contain dairy. You can filter your choices easily by lifestyle and dietary requirements. At MOMA, we provide great oaty choices, the rest is up to you.